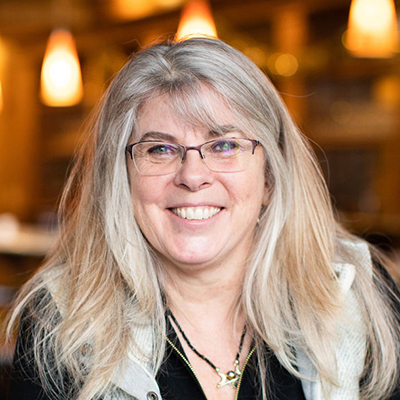 Dr. Christine White Deeble
Dr. White has practiced in Montana since 2002, when she returned home upon completion of her education and residency in family medicine at the National University of Natural Medicine in Portland, Oregon. She has owned and operated the Black Bear Naturopathic Clinic as a small practice until recently convening a new team of naturopathic doctors, health industry experts, and business leaders to found Natura Health and Wellness.
Her focus is complex cases that weave together all elements of human health and all systems of the body – over the years, her specialties have evolved to include chronic infections, gastrointestinal disorder, hormone assessment and balancing, and postpartum mood disorders.
Dr. White was born in Cut Bank, Montana, and spent her first few years in Browning where her family's roots go back several generations. She was raised all around the Pacific Northwest in California, Oregon, and Washington – and then on to Vermont and back, always returning to Montana for rest and restoration. Big Sky Country is where she always felt "home."
Her path to naturopathic medicine came out of a search for solutions to her personal health issues, watching her late father's health journey with Type I diabetes, and working in the substance abuse field where there was too little focus on diet and nutrition. With a long-time interest in herbal medicine, naturopathic medicine was a perfect fit.
She has worked for several years to develop both a collaborative clinical practice and a successful and sustainable business model for naturopathic doctors and is thrilled to a part of Natura Health and Wellness with an amazing group of providers and staff. When not at the office, she enjoys traveling with her husband, getting her hands dirty in the garden, cooking with new recipes and interesting spices, hunting in the wide open sage lands of Montana, spending time with family, and reading (she usually has three or four books going at any one time).
Dr. White started her professional career as a substance abuse counselor in residential adult care and then worked with homeless youth in community-based programs. From there, she helped develop a gang youth employment program in Portland, Oregon, a collaborative effort with community-based non-profit organizations.
Areas of Interest, Clinical Specialities, and Therapeutic Modalities
Fatigue, including adrenal exhaustion and Chronic Fatigue Syndrome.
Hormone assessment and balancing
Behavioral/Mental Health utilizing neurotransmitter assessment and balancing
Functional nutritional status testing
Functional gastroenterology, including IBS and SIBO.
Chronic illness and infections including tick-borne illness, viral and fungal infections
Environmental medicine
Postpartum Depression or Perinatal Mood and Anxiety Disorders
Intravenous (IV) Micro-nutrient Therapy
Education
Bachelor of Science, Washington State University, 1984
Master of Education, University of Vermont, 1991
Doctorate of Naturopathic Medicine, National University of Natural Medicine, 2002
Memberships
American Association of Naturopathic Physicians
Montana Association of Naturopathic Physicians (past President)
Montana Alternative Health Care Board, Member (Gov. appointed)
American Botanical Council
American College for the Advancement in Medicine